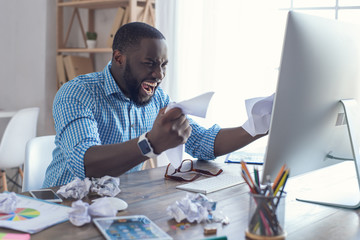 WHEN TO SEE AN ANGER COACH
Anger can be dysfunctional; most times, people who experience and use that energy wrongly often don't realize how big a problem it is. Unlike depression, uncontrolled anger doesn't have a name or an official diagnosis because it is a lifestyle that is not necessarily in the domain of mental illness. In short term, anger can be effective and productive if it compels others into executing your will.
Unfortunately, people often fail to see the long-term consequence of uncontrolled anger. These unhealthy consequences include high blood pressure and increased risk of heart diseases or failure, as well as social disharmony among family members, friends and co-workers.
You definitely need us:
When you frequently have discord with family members and co-workers.

When you are harboring or nursing a grudge or thinking about getting revenge.

When anger is too frequent.

When anger is too intense.

When anger lead to aggression.

When anger destroys relationship.

When anger impacts on health.

When anger lingers.

When anger risks career derailment.

When incessant Interpersonal conflict keep occcuring.

When irrational belief systems that impede harmony happens.
OUR ANGER PHILOSOPHIES
Anger is a normal natural human emotion.
Anger can be poisonous
No one can make you angry
Your anger is not you
No anger without you
Misuse of anger is a choice
Anger is a message
OUR ANGER COACHING ROOM
Acquiring tools for anger management.
Acquiring knowledge of the triggers and catalysts.
Finding constructive ways to express your feelings.
Improving relationship with the most important people in your life.
Discovering yourself.
. 
WHY SEEK AN ANGER COACH
While anger is a normal, natural human emotion, if misplaced or uncontrolled can quickly become problematic. Therefore, our motivating force is to focus on practical ways of helping people unlearn negative ways of dealing with anger and learning more positive and effective ones. We don't tell a person not to get angry; our goal is to expose people on how to channel their anger and behave when they are angry because some people choose to suppress their anger in hopes of the situation changing or simply going away.
However, suppressing anger can have a significant negative impact on your health.
At vero eos et accusamus et iusto odio dignissimos ducimus qui blanditiis praesentium voluptatum deleniti atque corrupti quos dolores et quas molestias data.